Specific Challenge:
Small UAVs, including cheap Commercial off the Shelf (COTS) and easy to assemble UAS components, are widely available and their popularity is even growing.
Traditional surveillance systems fail to cope with these objects because of their characteristics. Indeed their low speed make them invisible to conventional radars, their low altitude allows them to hide amongst trees or behind buildings, their very small RF (Radio frequency), thermal and acoustic signatures makes them difficult to detect. Additionally the high manoeuvrability of some machines makes their movement hard to track once detected, and their increasing on-board processing capabilities (e.g. automated and vision based navigation, use of Artificial Intelligence) makes them more resilient to "First Generation" C-UAS systems that rely on RF detection and jamming.
Scope:
The proposals must address the development of a counter UAS capability covering detection, tracking, classification, identification, risk assessment and neutralisation of the UAS threat, taking into account task assignment and coordination.
The proposals must focus on the classes of UAVs as described in the following table (class II is optional):
TAXONOMY

(coherent with NATO)

Reference information regarding UAV threats

Reference information regarding UAV threats
Reference information regarding UAV threats
Reference information regarding UAV threats
Reference information regarding UAV threats

Threat

Weight

[kg]

Reference size [cm3]

Max speed [km/h]

Typical altitude [m]

Typical RCS (Radar Cross Section​)

[dBm2]

Class I (a) and (b) – micro

< 2 kg

25 x 25 x 30

80

100

-20

(objective -30)(Human in the loop​)

Class I (c) – mini

> 2 & < 20

40 x 40 x 30

100

1 000

-13

(objective -20)

Class I (d) – small

> 20 & < 150

200 x 150 x 50

150

1 500

-10

Class II – tactical

> 150 & < 600

1 000 x 700 x 100

300

3 000

-3
The proposals must take into account the following considerations:
Threats to safety and security
Safety concerns due to the potential for recreational drones to enter unauthorized areas either by accident or negligence.
Security concerns caused by malevolent users attempting deliberately hostile missions such as the delivery of IEDs, smuggling or ISR.
Operational environment
Threats must be considered in their environmental and operational context. Mitigation options vary from civilian and military scenarios and between urban and rural settings. Solutions will differ according to the size of the area to protect, the reaction time required and the need to minimize fratricide and collateral damage. Missiles or air-burst munitions are unacceptable in a civilian context and may not be the best solution in urban peacetime environments. A soft kill approach may be required to safely take over drones carrying a suspected IED in a crowded place, notwithstanding the potential for electro-magnetic fratricide and collateral damage and notwithstanding current inability to determine the intent of an unexpected drone intrusion. However, many current soft kill solutions are likely to be ineffective against a fully autonomous UAS. Accordingly, a suite of solutions will be required to comply with a broad set of rules of engagement (RoEs) each adapted to the surrounding environment and the operational scenario (including the transition from peace-time to war-time).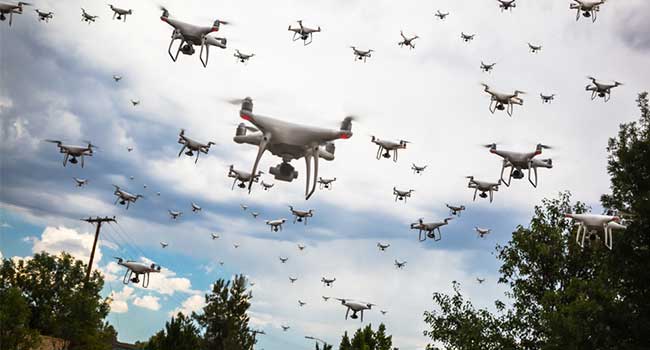 Deployment
C-UAS systems must cover both fixed and deployed applications.
Fixed applications: Forward Operating Bases (FOBs) and critical infrastructures may demand continuous operation, day & night 24/7, at reasonable operational and maintenance cost.
Deployed, "pop-up" applications: Tactical military activities as well as civil events demand quick deployment with minimum logistic support, and the rapid integration of additional sensors and effectors within a recognised open architecture.
Multi-UAV Systems
Threats can occur by mean of either single or multiple UAV units, either uncoordinated or operating as a team or as a single system (swarm). Therefore, C-UAS systems must be scalable to adapt to the level of expected threat and must offer the proper reaction.
Targeted activities
The proposals must cover one or more of the following activities: study, design, prototyping or testing of the proposed solution, not excluding downstream activities.
These activities must in particular cover one or more of the following:
feasibility studies, capability gaps analysis, CONOPS definition, system specification, preliminary requirements review (PRR) and architecture definition;
studies about promising technologies that nowadays have a technology readiness too low to successfully integrate and deploy in the field;
detailed design of the system, including the System Requirements Review (SRR), the Preliminary Design Review (PDR) and Critical Design Review (CDR);
Prototyping;
Testing, qualification and certification in relevant operational scenarios.
Main high-level requirements
The drivers for the C-UAS capability design should be:
open, flexible, modular and scalable architecture based on a plug-and-play component approach which allows deployment of specific configurations adapted to the threat scenarios;
robustness and high availability;
standard interfaces and interoperability;
day and night operational capability;
fast deployability;
minimum logistic support;
cost-effectiveness and relevance of neutralisation solutions to the characteristics of the threat and to the operational environment;
configurability of the solution for the different operational environments enabling end-users to complement/adapt as required the architecture (with more mobile/deployable components for example), to choose sensors, effectors, active areas and create tailor-made instances of the system, completely adapted to their specific needs.
The system should ensure effectiveness in the following operational scenarios:
protection of Forward Operating Bases (FOB);
protection of critical areas (with tailored approaches and deployment in case of point objective, "extended point" objectives and area objectives), including urban environment;
protection of strategic assets;
protection of moving assets (e.g. convoys, fleets, etc.).
The C-UAS systems should address all operational phases:
planning:

mission planning;
report function;

deployment:
mission conduct:

generating real time operational picture;
automated and real time warning;
modern and ergonomic graphical interface;
threat tracking;
optimal selection and activation of effectors;
threat neutralization with focus on semi-autonomous (or even manual) technical solutions (HIT (Human in the loop))
The system should fulfil the following requirements:
detect, classify, track, identify and counter UASs (single and/or multi-UAVs) in defence scenarios using multiple technologies; the ability of the proposed solution from detection to counter UASs also in civil scenarios is considered a significant plus;
deliver and update real-time operational picture and alerts;
integrate into multilayer C2 system with cross-security-domain approach;
provide a range of selective mitigation alternatives with the ability to evaluate mission success probabilities and resulting drawback;
require limited logistic support for deployment and maintenance;
require minimum operator effort for decision making;
provide dynamic scalability of sensors and effectors;
facilitate the incorporation of counter UASs in security and defence systems for fixed and deployed asset;
able to operate in a wide range of climate (e.g. arctic, subtropical) and weather (e.g. rain, fog, snow) conditions.
All the active and passive sensors and the effectors should be integrated and connected in a local command and control station. This station should implement data fusion and automatic procedures and rules in order to focus human operations on action, resources coordination and cooperation.
The proposed system should in particular include the following capabilities:
Detection, recognition, classification, identification and assessment: for these purposes the autonomous processing of information should be balanced across the adopted sensors and timely reported to the central C2 to reduce operational manpower load and bottlenecks. Solutions based on omnidirectional detection (rotating or staring) while also capable of limiting the detection to a sector of choice will be preferred for its higher flexibility of adoption;
Sensors and effectors should use communication protocols that allow "plug-and-play" deployment and should be able to operate without impacting on existing communications or position / navigation Infrastructures.
Command and control: C2 should plan and monitor subsystems' missions and conditions, merge information from heterogeneous sensors, report about any internal or external elements that could affect the system performances, evaluate the possible engagement approaches to the operator, coordinate the engagement approach selected by the operator and report on the resulting outcomes. C2, as part of threat evaluation and weapon assignment, should compute success probability, time to complete the neutralization and drawback probabilities for each of the possible neutralization approaches. In addition, C2 should allow subsystems' dynamic deployment and multi-instance integration. In order to allow smart and effective deployment, C2 and related subsystems should be at the lowest possible security classification level while at the same time be able to interoperate with other C2 systems (e.g. air defence systems) at higher security classification level.
Neutralization: neutralisation should include effectors compatible with the operational environment and the characteristics of the threat (including multiple UAVs elimination). These may for example include navigation systems spoofing, RF jamming, kinetic effectors (soft/hard with lethal or non-lethal effects), catch or hit-to-kill by a swarm subset or direct energy weapons (e.g. high power lasers and/or microwaves).
Expected Impact:
Stimulate the production of doctrine and CONOPS in this field;
Develop a comprehensive C-UAS capability;
Reduce the minimum reaction time;
Enhance situation awareness and protection of critical areas and strategic assets;
Ensure interoperability with existing security and defence systems.
Application Deadline: 1 December 2020 17:00:00 Brussels time
Source: European Commission
Windowless planes will give passengers a panoramic view of the sky
Artificial Intelligence + Origin of Life Prize, $10 Million
EIC Horizon Prize for 'European Low-Cost Space Launch
HOW IT WORKS: The International Space Station
We love 
 Earth | We love 
 Mars | We love 
 Space 
We love Earth | We love Mars | We love Space 
Save the Planet Earth!  Business Opportunity | Innovations & Future Technology
Renewable Energy – Water Management – Cleantech – Ecosystem – Biogas and Biofuels – Projects – Innovative Technologies
再見 * Goodbye  *  Adiós * Au revoir  * Adeus * Auf Wiedersehen * До свидания * Arrivederci  * さようなら * Güle güle * Selamat tinggal *  नमस्ते  * Totsiens * Αντίο *  معالسلامة  * Tot ziens * Adiaŭ * Kwaheri * Do widzenia * Viszontlátásra *
 THANK YOU FOR VIEWING!